Kiinalaisdelegaatiot vierailivat vuoden vaihteessa Klubin vieraana seuraavasti;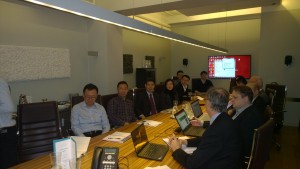 12.12.2016 Pekingin kaukolämpöryhmä, 8 henkeä.
Tilaisuuden ohjelma oli seuraava:
Klo 9.00
Tilaisuuden avaus. Suomalainen Energiaklubi, Esa Teppo
Isäntien ja vieraiden esittely
Filmi Suomen Energiatarina
Why to utilize Finnish Energy Expertize, Esa Teppo
Verkoston hallinta ja optimointi, taloudellisen kaukolämpötoiminnan peruste; Planora, Taisto Tallavaara
Helenin esittely; Turo Eklund
Vexven esittely; Anne Savolainen
Aritermin esittely; Petri Liimatainen
Valmetin esittely; Ilkka Heikkilä
Planoran esittely; Esa Teppo
Tilaisuuden yhteenveto ja jatkotoimenpiteet
Klo 14.00
Tilaisuuden päätös
Vieraat pitivät esityksiä erinomaisina.
Vierailut jatkuivat heti vuoden 2017 alussa, ja 5-6.1.2017 Klubin vieraiksi tuli 23 hengen kiinalaisryhmä. Vierailun ohjelma oli seuraava:
Torstai 5.1.2017
Klo 9.00
Opening and welcome speech, Finnish Energy Club, Petri Vuorio
Introduction of the hosts and guests
Finnish Energy Story, film
Why to utilize Finnish Expertize, Finnish Energy Club, Esa Teppo
Network management and optimization, basis of cost-effective district heating; Planora Oy, Taisto Tallavaara
Presentation of Helen,Turo Eklund
Coffee break
Presentation of Vexve Oy, Anne Savolainen
Presentation of Aritem Oy, Petteri Korpioja
Presentation of Valmet Oy, Ilkka Heikkilä
Lunch
Presentation of Oilon Oy; Tapio Murtonen
Presentation of Green Stream Finland Oy, Jussi Nykänen
Presentation of Gebwell Oy, Viesturs Ozolins
Presentations of ÅF Consult, Timo Laakso
Presentations of Planora Oy Esa Teppo
Discussions and summery of the meeting
Klo 18.00
Closing
Perjantai 6.1.2017
Klo 9.00
Visit of the incineration plant of Vantaa Energia
Visit Oilon Oy, Lahti
Vierailuryhmä edusti energia-asiantuntijoita eri puolilta Kiinaa. Alla kuvia vierailusta.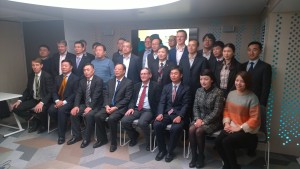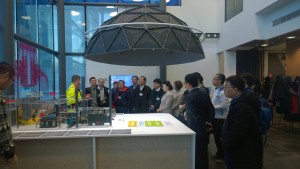 Vierailijat olivat erittäin tyytyväisiä kuulemaansa ja näkemäänsä.
Vierailusta saadun positiivisen palautteen ansiosta Klubi osallistuu 17.1.2017 Pekingissä pidettävään CECEP-tilaisuuteen, josta tietoa mukana olevassa liitteessä.
Klubi toivoo kommentteja CECEP-tilaisuuteen vietävistä terveisistä.
Hyvää alkanutta vuotta 2017 toivottaen
Suomalainen Energiaklubi
Esa Teppo