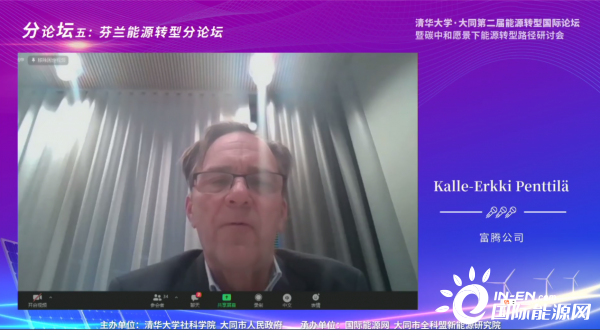 Fortum Group Kalle-Erkki Penttilä
Kalle-Erkki Penttilä from Fortum said in his speech: Finland is a top country in the use of high technology. We have done better energy use and consumption. We have also cooperated with many large companies, universities, and many countries. Cooperation with the partners, which is why I think this conference is a very good opportunity to allow Finnish energy companies to participate in cooperation, explore ways to achieve carbon neutrality, and improve the efficiency of energy products, especially in Among many cities in China.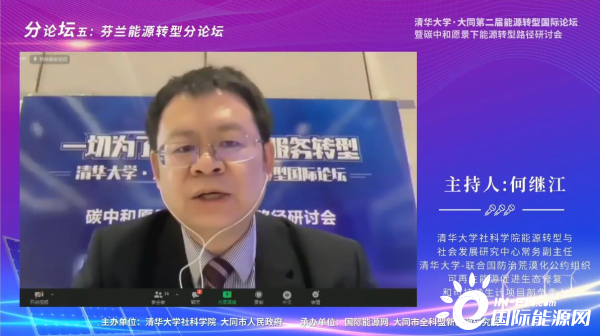 The conference was divided into two parts. The keynote speech of the special guest was chaired by He Jijiang, Executive Deputy Director of the Energy Transition and Social Development Research Center of Tsinghua University. The second part is a demonstration of Finnish low-carbon technologies and solutions, hosted by John William from Sinak, Finland.
In the keynote speech session, academician Wang Jiyang of the Chinese Academy of Sciences, Mr. Markku Markkula, Chairman of the Board of Directors of Espoo, Finland, Innovation Consul of the Consulate General of Finland in Shanghai, Dr. Mika Klemettinen, Director of the Shanghai Office of the Ministry of Commerce of Finland, Project Executive of the European Office of the Exchange Center of the Ministry of Science and Technology Ms. Guan Xia Huanhuan gave wonderful speeches respectively.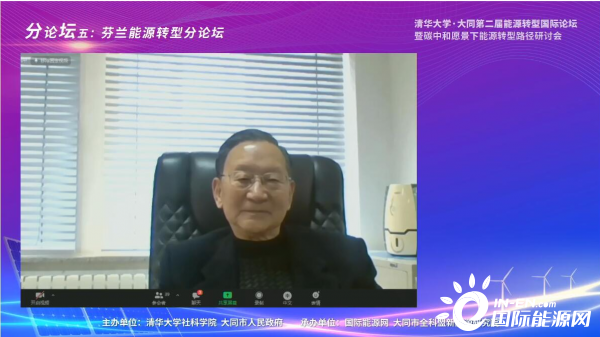 Academician of Chinese Academy of Sciences Wang Jiyang
Academician Wang Jixu took Hefei Binhu New Area as an example, focusing on the use of geothermal resources in the Yangtze River Delta. Binhu New District is a new area for government affairs, finance, culture, and tourism, and a low-carbon demonstration zone for China and the United States. Many energy stations use lake water, using geothermal heat pumps, reclaimed water heat pumps, ice storage, water storage, and natural gas trigeneration. He believes that the local advantage lies in the maximum two-way heating, which can be used for heating in winter and cooling in summer. "How much heat is taken out of the ground, and how much heat can be put back in the summer. In terms of heat, it is balanced in heating, and there is no so-called cold accumulation or hot accumulation."
He proposed to vigorously develop geothermal +, "it is to focus on geothermal, combining solar energy, wind energy, biomass energy and even ocean energy and other new energy and renewable energy to maximize." He shared a Sino-US cooperation project, The top of the project is full of photovoltaic panels, and the bottom is a geothermal heat pump. The entire building uses geothermal and solar photovoltaics to achieve a nearly zero energy building.
Academician Wang also introduced the concept of geothermal power bank: "The earth is not only a huge thermal reservoir, we can take out the geothermal heat and use it, and after using it, we can also use other things, such as excess solar energy, excess wind energy, etc. The form is put underground, stored, and used as a kind of thermal storage, when needed. It is also being used internationally. It is called the earth battery. I think this is not exactly a battery. Calling it a geothermal power bank may be more vivid. "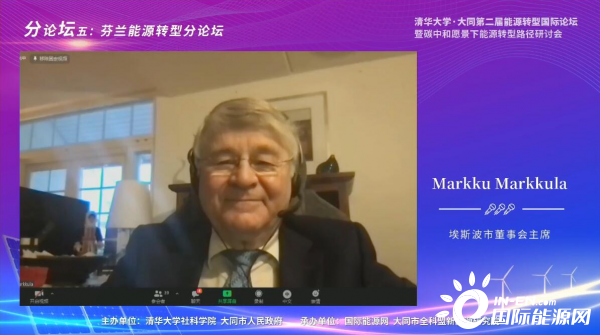 Markku Markkula, chairman of the board of Espoo City
Markku Markkula, chairman of the board of Espoo City, took a Finnish power station as an example to demonstrate Espoo's innovation in smart energy around the sustainable development goals. Espoo has been cooperating with Shanghai for 25 years, and we can continue to deepen cooperation in sustainable development. Why is the city of Espoo important on the subject of sustainable development? "According to some international surveys and studies, we have referred to many indicators and defined Espoo as the most sustainable city in Europe. This is very important to us and allows us to start policy development at the city level. Transformation can also start from the scientific and technological level, discover the cooperation between cities, and work together to make our cities smarter."
He believes that in order to make the city better and promote the harmonious development of the city, we need to innovate to find new solutions. A harmonious city revolves around the relationship between people and society, as well as the relationship between people. To achieve these goals, we must Need to pay attention to the use of energy.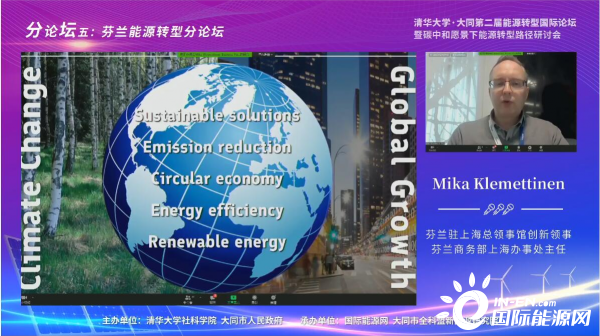 Innovation Consul of the Consulate General of Finland in Shanghai, Mika Klemettinen, Director of the Shanghai Office of the Finnish Ministry of Commerce
Mika Klemettinen, Innovation Consul of the Consulate General of Finland in Shanghai and Director of the Shanghai Office of the Finnish Ministry of Commerce, introduced the Sino-Finnish energy cooperation-Finland's solution. Mika Klemettinen said, "Why is it so important to strengthen Sino-Finnish cooperation? First of all, Finland is the most innovative country in the world, and she is also one of the cleanest countries in the world. At the same time, we also attach great importance to education and engineering, as well as other aspects. , These can reflect our innovation."
He believes that solutions in the four areas of energy production, heat exchange units, smart grids, and smart buildings are very important cooperation between Finland and China.
In addition to the cooperation between cities, Mika Klemettinen also hopes that the two countries can innovate and interact between the high-levels. "We are not limited to cooperation between cities, but also hope to use these programs in the entire society to connect with society and life, and let it Become a collective, and then create a more sustainable and cleaner society, so that everyone can live a better life, can promote business growth, can provide more services. This is what we say can be A sustainable, safe and intelligent society."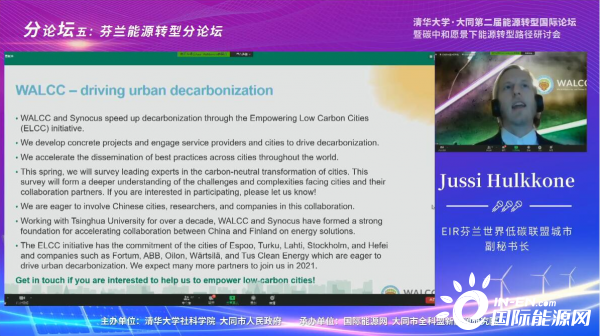 Jussi Hulkkone, Deputy Secretary-General of the World Low Carbon Alliance City
Jussi Hulkkone, Deputy Secretary General of EIR Finnish World Low Carbon Alliance Cities, introduced some projects that EIR Finnish World Low Carbon Alliance cities have done over the years. "This organization was established in 2012 under the joint efforts of Tsinghua University and Cities. We have discussed and cooperated in many aspects around urban planning, urban transportation and green buildings, and established this organization. This organization has worked in history. The main thing is to promote research on electric vehicles and batteries. We have gathered forces from different countries and fields to jointly serve the development of low-carbon cities."
The event started in Espoo City. Espoo has a very leading position in sustainable development throughout Europe, followed by Turku. "This is the most important city in Finland in promoting energy cooperation. We have accumulated a lot of experience in our previous development strategy and previous experience. To achieve the goal of carbon neutrality, we must achieve this goal by 2030. We need to reach close cooperation with partners such as Fortum to build a circular economy."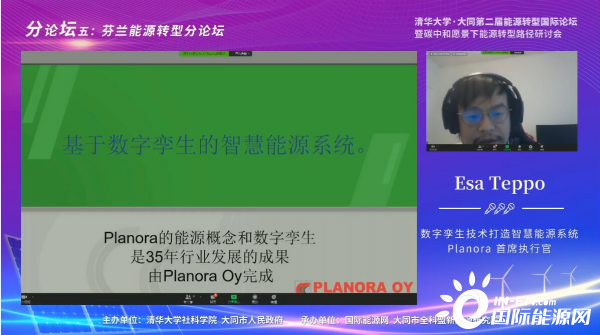 Mr Yu Li from Planora gives a speech about Smart energy system works in Finland with digital twin technology. The data of the heating network is composed of off line(static) data and online(dynamic) data, The basic data of the digital twin is static data based on the network data when its completed. We can integrate the existing IOT points on the network into the existing digital twin to achieve a complete digital twin that combines dynamic data and static data,
An eco system can be created based on Digital twin, the purpose of this eco system is to simplify the data sharing between different companies. all the encrypted network data will be stored is the data sea which includes all the static data and dynamic data. company can access to this data sea through different API service for their own purpose.
Digital Twin and three control points application is the optimum way to control a district heating system, it allow the system to  match the heat production with heat demand which greatly reduce energy fluctuations, data from room thermal stats and substation is transmitted to cloud service, the supply temperature of substation will be controlled automatically according to the actual room temperature. This approach allows the heating network to respond to the actual heat demand of users from the supply side。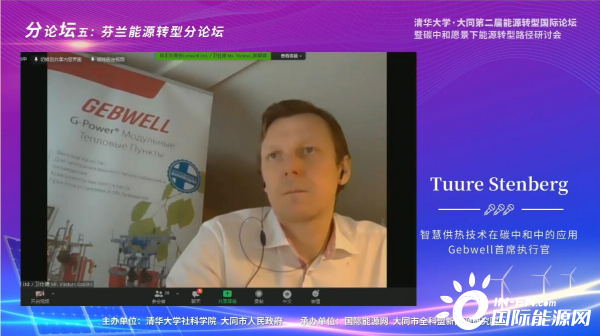 Gebwell Export Director Viesturs Ozolins introduced the application of smart heating technology in carbon neutrality. "At present, the company is committed to the central heating system, which can achieve energy saving and transportation energy saving, and at the same time, it can also achieve building energy saving. We have building heat exchange units and are very experienced in this area, which can better control the building energy."
"In many countries, especially Europe, building heat exchange stations are being used. China is no exception. Now many countries, including China, are beginning to use new systems and new technologies. These technologies focus on energy saving and they only use building heat exchange units. Energy saving can be achieved. At the same time, our company also provides an intelligent control center. We not only provide a variety of equipment, but also a variety of systems, as well as artificial intelligence improvements, and an intelligent control room, so It can combine all devices with the cloud to further improve energy use. We also pay attention to energy efficiency, especially in buildings."