Kiinan vierailu on takana.
Vierailu tehtiin kiinalaisten delegaatioiden 12.12.2016 ja 5-6.1.2017 Suomen vierailujen vastavierailuna. Kiinan puolelta vierailun organisointi tapahtui Revoheat Mr. Quing Sunin ja Mr. Han Rongxianin toimesta.
Vierailuun osallistuivat Energiaklubista/Planorasta Esa Teppo ja Gebwell Oy:stä Viesturs Ozolins.
Vierailun ohjelma oli seuraava:
14/01 Saturday
Flight, Oulu – Beijing
15/01 Sunday
09:00 Arrival at Beijing Capital Airport T3
11:30 Working lunch with Mr Li and Ms Liu, BDHG, Mr Sun, Revoheat
14:00 Driving to Zhangjiakou – Finpro China 2020 Winter Olympic Project
17:30 Check in Hotel
18:30 Working dinner
16/01 Monday
8:30 Opening address by, Mayor, Zhangjiakou city
8:50 Introduction of five-year construction plan and projects, both Winter Olympics and municipal infrastructure, By Zhangjiakou bureaus
9:20 Finnish Green Building Know how, Energy solution, and winter sports arena By Kimmo Siira
9:30 Introduction Tekes joint call, by Arto Mustikkaniemi
9:40 Tea break
10:00 Finnish (and CCG) presentations by Oilon, PES, WARTSILA, Gebwell PPT; Vexve, Kolmeks, Finnish Energy Club/Planora
11:30 Q&A and conclusion
12:00 Working lunch and exchange
13:30 Check out hotel
14:00 Zhangjiakou – Beijing Kerry Center by bus
17:30 Check in Hotel
17/01 Tuesday
09:30 Finpro meeting with CECEP
13:00 End of Finpro session
18:30 Dinner with BDHG delegation
18/01 Wednesday
08:00 Dunan Group visit in Laiyang by Flight, Beijing – Qingdao. Pick-up and drive 1.5h to Dunan Laiyang
12:30 Lunch with Mr Bao and his staff (Waste-To-Energy DH project)
14:00 Technical meetings with Dunan Group
18:00 Dinner
20:00 Check in hotel
19/01 Thursday
09:00 Technical meetings (to be continued)
12:00 Lunch
14:00 Drive to Qingdao airport; Flight Qingdao-Dalian
21:00 Dinner with GM, Haixin DH Information Co.
22:00 Check in hotel
20/01 Friday
09:30 Meeting with Director, Dalian High-Tech Development Zone
10:30 Meeting with GM, Haixin DH Information Co.
12:00 Lunch
14:00 Meeting (to be continued)
19:55 Flight Dalian-Beijing
21:00 Check in hotel
21/01 Saturday
free day
22/01 Sunday
Flight Beijing – Oulu
Kuvia vierailusta: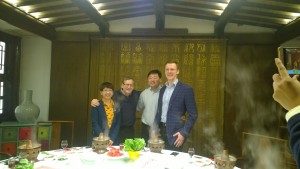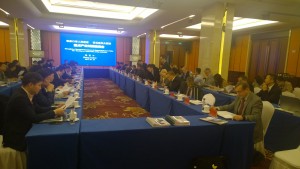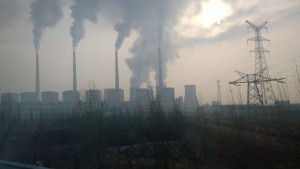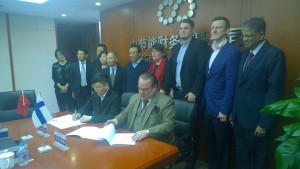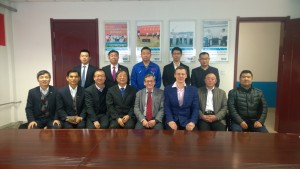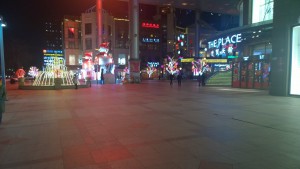 ---
Vierailun ohjelma oli erittäin tiivis, mutta myöskin antoisa. Vierailun tuloksista mainittakoon:
Beijing District Heating Group
Sovittiin, että Finnish Energy Modelia (FEM) sovelletaan Pekingin Haidian alueelle käynnistettävään pilottiin. Sovittiin, että aloitetaan valmistelut Suomi – Kiina -energiapäivien pitämiseksi Pekingissä vuoden 2018 aikana.
CECEP Nanjing -projekti
Du Yuji (President, Senior engineer/Primary constructor) totesi, että klubin esittämä FEM on juuri se asia mitä he ovat kaivanneet. Esitti toteutukseen osallistumista. Mahdollisina osallistumismuotoina hän esitti projektiin osallistumista yhteisyrityksen, oman kiinalaisen filiaalin tai pelkkien toimeksiantojen kautta.
Dunan Group Laiyand
Sovittiin, että Finnish Energy Modelia sovelletaan Laiyandin kaupungin energiahuollossa käynnistyvällä pilotilla. Pilotointi aloitetaan kevään 2017 aikana.
Dalian High-Tech Development Zone ja Haixin DH Information Co
Päätettiin aloittaa selvittelyä yhteistyön käynnistämisestä ja mahdollisesta pilottiprojektista Daliassa. Lisäksi päätettiin selvittää mahdollisuuksia laajentaa Suomi- Kiina -energiapäivien yhteydessä 2018 käynti myös Daliassa.
Ovatko nuo edellä mainitut toiminnat haaveita vai oikeita mahdollisuuksia, niin siinäpä askaretta tuleville vuosille. Tämähän selviää vain olemalla aktiivinen ja pyrkimällä viemään asiat toteutukseen.
Suomalainen Energiaklubi arvostetaan Kiinassa (ainakin tehdyn vierailun aikana) erittäin korkealle. Tätä arvostusta kannattaisi käyttää tulevaisuudessa kehittämällä klubin jäsenten yhteistä esittely/markkinointimateriaalia sekä yhteisesiintymisiä.
Oulussa 25.1.2017
Terveisin
Esa Teppo